The Anti-Prom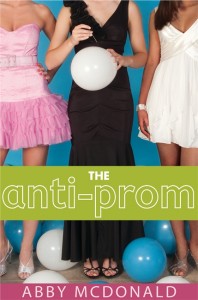 Three unlikely allies team up for a night of rebellion, romance, and revenge…
They've spent years at the same high school without speaking a word to one another, but that's all about to change.
Popular Bliss was having the perfect prom until she found her BFF and boyfriend making out in the back of a limo. Bad girl Jolene wouldn't be caught dead at the prom, yet here she is, trussed up in pink ruffles, risking her reputation for some guy. And shy, studious, über-planner Meg never counted on her date's standing her up and leaving her idling in the parking lot outside the prom.
What happens when three very different worlds collide? One unforgettable night. Get ready for The Anti-Prom!
Pre-order now from Amazon, Barnes & Noble, or your local indie bookstore!